School Uniform & Supplies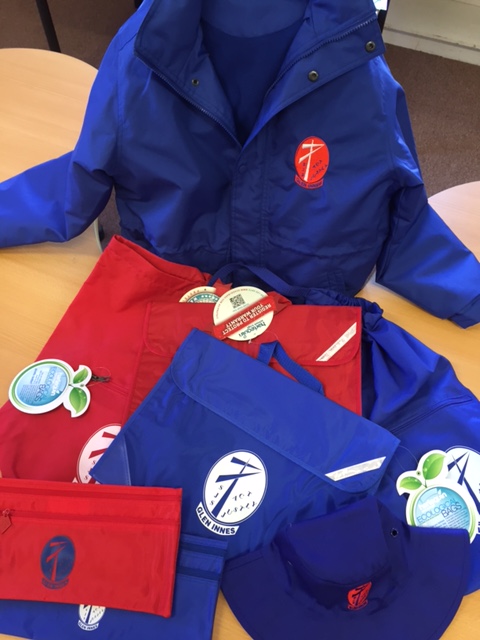 The school uniform is to be worn on all school days unless notified by the school that mufti/casual clothing can be worn. Sports uniform is to be worn on Thursdays unless notified by the school that the sports uniform is to be worn on another day.
All uniform items are available from Carelle's Young World and some supplies are available from the school office these include hats, pencil cases, library bags and swimming bags.
It is expected that all students adhere to these requirements and wear the uniform correctly at all times. A note is to be sent to school if your child is out of uniform.
Socks are to be clearly seen above the shoes.
The School Sports Jacket may be worn at any time as long as it is worn with the school jumper underneath. On colder days the School Coat may be worn over the school jumper. 
The School Hat Is a Must For All Outside Occasions. The "No School Hat No Play" applies.
All items of property and clothing must be clearly marked with the child's name.
Jewellery is to be simple and kept to a minimum, only one solid gold or silver bangle, one pair of plain small studs or sleepers, watch/Medic –alert, however no rings or necklaces.
Nail polish and make-up is not to be worn to school.
A student's hair is to be neat, clean, tidy, of a natural colouring and not making a fashion statement. Hair longer than the shoulder is to be tied back using the school colours of white, red or blue.
Hair must also be off the face at all times.
 There will be a two week phase in and out of summer/winter uniform called at the discretion of the Principal.
Uniform Supply
The school uniform can be purchased from Carelles Toy Shop.

School Stationery
At the end of each school year a stationery list will be sent home for each child for their corresponding class.  These items can be ordered through Schafer's Newsagency Glen Innes.
Girls Summer
 Tartan Shirtmaker Style Dress (Knee Length)
 Short White Socks
 All Black Leather Shoes or Boots (No Joggers)
 School Red V-Neck Woollen Jumper/Fleecy Top
 School Hat
Girl Winter
 Royal Slacks or Royal Blue School Pinafore
 Midford Long Sleeved Blue Blouse or Light Blue Skivvy
 Navy Tights or Short White Socks
 All Black Leather Shoes or Boots (No Joggers)
 School Red V-Neck Woollen Jumper/ Fleecy Top
 School Sports Jacket
 School Hat
 School Coat 
Girls Sport
 Logo Sport Shirt
 Royal Blue Skort or Royal Blue Mesh Basket Ball Shorts
 Royal/Red School Track Suit
 Short White Socks
 Joggers
 School Hat
Boys Summer
 Mid Length Cargo Grey Shorts
 Short Sleeve Midford Blue Shirt
 Short Grey Socks/School Socks
 All Black Leather Shoes or Boots (No Joggers)
 Red V-Neck Woollen Jumper/Fleecy Top
 School Hat
Boys Winter
 Long Grey Trousers
 Midford Long Sleeved Blue Shirt or Light Blue Skivvy
 Short Grey Socks/School Socks
 All Black Leather Shoes or Boots (No Joggers)
 School Red V-Neck Woollen Jumper/Fleecy Top
 School Sports Jacket
 School Hat
 School Coat 
Boys Sport
Logo Sport Shirt
Royal Blue Mesh Basketball Shorts
 Royal/Red School Track Suit
 Short White Socks
 Joggers
 School Hat